Google has become an integral part of any company's marketing efforts. Ranking high on the search engine is vital for gaining visibility and driving traffic to your website. There are around 63,000 searches on Google per second, which amounts to 5.6 billion searches per day. The numbers are astronomical, and the tech giant has become a necessary component for businesses selling online. But with so much competition to rank for keywords and gain more visibility on the search platform, how do you maximise your opportunities?
Ecommerce is a particularly competitive sector with sales amounting to trillions. That number will only grow as Covid continues to change the way consumers think about where and how they shop. For online retail stores, Google is the perfect intermediary between consumer and business. If customers see you on the first page, the chances of them clicking through to your website increase by 71%. The more you understand the dynamics of Google's search engine, the better your chances of appearing high up on competitive pages for the relative keywords. It takes time, patience, a solid strategy and, in some cases, money. But success is possible if you understand the fabrics of Google.
That's why we've put this guide together, which breaks down Google from a marketing perspective. It covers everything from the working of its algorithms to how you should create content for Google. Read on and discover how to position your retail business so it meets Google's needs and increases your visibility. Learn how to gain more traffic and boost revenue.
Understanding the Google algorithm
The algorithm is everything. It's a complex system enabling Google to find, rank and return the most relevant pages for human search queries. If you understand the algorithm, you automatically increase the chances of ranking for the keywords of your choice.
How does Google's algorithm work?
Google's algorithm is a bit of a mystery as Google won't reveal what makes it tick. That would be too easy, right? However, we know that it's constantly evolving with regular updates. So just when you think you understand how it works, something else pops up and changes the dynamic.

There are, however, some key factors that remain even when everything else in the algorithm changes. These include:
Page speed
Google frequently updates its page speeds, looking for websites that flow and run without hiccups. If you've got a slow site or one that takes too long to load and offers a poor user experience, you could find that Google doesn't rank it particularly well.

Page speed is a direct ranking factor, especially since Google's Algorithm Speed Update. Speed may also affect other aspects indirectly, such as increasing the bounce rate (more on that shortly). If a user leaves a site after around three seconds, Google assumes it's because of a slow website and poor user experience.

Ultimately, the faster and smoother your website, the better your chances of ranking on Google. You can even get direct help on how to ensure all pages are optimised for Google with its Page Speeds Insights.
Site design
Your website needs to be user-friendly and offer seamless navigation. This ties into speed and looks at the bigger picture, such as overall user experience. A website might be fast, but if it's confusing to use, it could see a larger drop-off rate because it's not clear what the user should do.

Navigation is a key factor for Google. Your website needs to be aesthetically pleasing and straightforward to navigate. If it isn't, you can expect to run into trouble with Google's algorithm.

You should think about how the website is arranged, whether journeys within it make sense and how easy it is for a customer to find what they're looking for. A consistently flowing website is good for Google and your retail business.
Content relevance
Keywords are complex, as stuffing them on your site can lead to Google penalising you. But there's no doubting their importance, and your pages should contain relevant keywords organically.

It's not just about ranking for any old keyword, however. Google wants to know the meaning of the query and if it's relevant to your website. Ranking for the right keywords is also helpful for your retail business, as you'll get people searching for terms that are more likely to result in a transaction.

You also need to think about aspects like the freshness of content – eg, is it still relevant, and do you need to update pages? These factors all contribute to how Google recognises your website and whether users are getting what they need from it.
User engagement
Google likes lots of user engagement, so you want to avoid low bounce rates (people exiting your website after landing on one page) as users leaving shortly after they've arrived could impact your ranking.

The more engaging your website, the higher the chances of users spending more time. Again, the user experience comes into play here. As a retail business, you need to think about the buying journey, your checkout experience and how you can encourage customers to move through your website.

Mobile-friendliness
An increasing number of people are using their phones to search the internet, and Google will look at the mobile version of your website for ranking and indexing. This means you need a mobile-friendly website to perform well with ranking.
HTTPs status
Google wants to ensure that your website is safe and secure. Therefore, it gives preferences to sites that are more trustworthy and have HTTPS, which is safer than HTTP. Having an SSL certificate can also help with rankings.
The Google algorithm
Google algorithm is always changing, but some key elements remain the same. The more user-friendly your website, the better your chances of ranking on Google. Consequently, you need to think about aspects like keywords, speed and the UX journey throughout every page of your retail website. Nail the basics of a well-functioning website, and you're already giving yourself a chance of being visible on Google.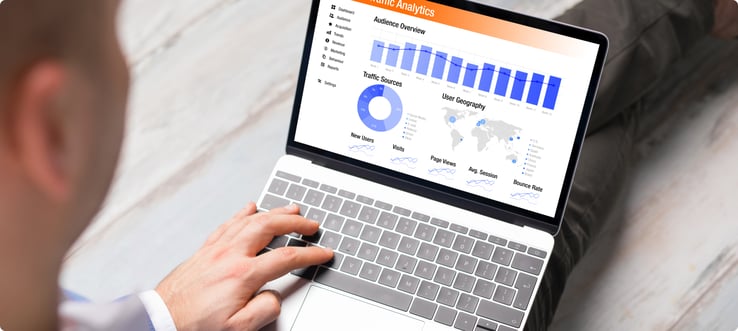 Which type of content ranks well on Google?
Once you have a grasp of the algorithm, you'll need to create content for Google's search engine. More often than not, having a website with some product pages and other typical sections, such as 'about us' and 'contact us' isn't enough.

You'll need to update your website regularly, and one way to do that is through blogs and specialised content, such as infographics and ebooks. But which type of blogposts and other forms of content does Google favour?

There are several components to ranking on Google, including being on the first page and the Google Featured Snippets, brief excerpts from your webpage that appear in Google's search results above anything else on the page, including paid ads.

With that in mind, these are the types of content that Google favours for its search engine, be it conventional page ranking or featured snippets.
Listicles
Listicles are articles where you include the information in list form. As an online retail store, you might create a piece of content called '7 autumn fashion trends' and proceed to write the trends in list form. Google loves this approach and typically features listicles in the featured snippets as long as the content is interesting and relevant to people's searches. Listicles are a form of blogposts.
Short-form evergreen content
Evergreen content is timeless, which means it's not related to current news cycles or limited to topical themes. For example, you could write an article for consumers about 'how to set up an online retail business'. Over time, there may be parts of the article that need updating. But the overall content will stay relevant for many years.
Long-form articles
Google likes plenty of words as long as they're interesting and provide value to the reader. It's more likely to favour a 2,500-word article over a 500 one. That's because its algorithm thinks a lengthier article will provide more information compared to a short one.

Videos
Video content is becoming increasingly important to search engines, as an increasing number of web browsers watch platforms like YouTube to get their information. If you want to hit the sweet spot, try and feature a video clip in a written article surmising the content. In 2021, 86% of businesses used video marketing to promote their brand, including boosting organic ranking online.

Photo and visual galleries
Google is a big fan of images, so you don't always need to go text-heavy. Many brands use photo guides, putting a slideshow in place with a paragraph or two describing the content. Doing so will increase your chances of ranking on Google if the images lead the writing, rather than the other way around. For example, an online DIY store may decide to do a photo gallery of the best electric screwdrivers available and write a small summary of each screwdriver.

Infographics
Much like photo galleries, infographics are more visual and usually a great way to turn data into easily digestible content. Perhaps you've recently surveyed buyer demands and used an infographic to break the data down and make it easy to consume for audiences.
Interactive pages
Users being able to interact with the page can lead to a big win with Google. Mortgage companies do this especially well with their online calculators, while property websites like Zoopla have gained traction through their house price pages. Suppose you're an online retail store using alternative payment methods. In that case, you could explore adding a calculator page where consumers can see how much they can borrow along with a breakdown of the monthly repayments. Something like this is considered helpful by Google and has the interactive element, which could help it climb in the rankings.
Multi-page guides
Again, creating multi-page content shows Google that you're providing in-depth information and therefore increases its chances of ranking. Many websites have seen traction with their multi-page guides rich with information. These types of guides work especially well for B2B brands, as you can inform clients and give them added value alongside your core offering.
Landing pages
Landing pages are a great way to create more content around a product or service you're selling. On the homepage, you might only have a few spaces to describe your offering. With a landing page, however, you can go into depth about the product. Google also tends to rank landing pages, so there's a chance that your page will perform well in the search engine.
Best practices for optimising content
It's one thing to write great content, but it's also about the formatting. Google considers ranking factors based on how you present the content, and they include elements like on-page and off-page, which is what happens in the background.
Internal links
This is the number of web pages you link to within your piece of content. The more organised your internal linking structure, the higher you'll rank. For example, if you're writing an article about the best trainers, you can link to the sales page on your website for that product.

Title and header tags
Titles and header tags should feature the targeted keyword, as search engines like Google use these to learn about the page. The title tag is what shows up in the search page result.
Alt-text
Alt-text is a descriptive text for the images displayed in your article. You'll write the alt text in the content management system, and it will provide a description of that image. So if you've got an image of an air conditioner, the alt-text would state that it's an air conditioner and feature some other information, such as the model number.
Meta description
A meta description is a short paragraph describing what the reader can expect in the content. It lives in the HTML code on your webpage and is usually displayed in the Google search results under the title.
URL structure
The URL needs to be clear and concise and reference the title of the article. A jumbled URL with too many mixed characters doesn't explain the content and therefore struggles to rank on Google.
Off-page information
Some aspects happen away from the actual page where the content is displayed. These include factors like backlinks, which is a hyperlink from outside of your website. If you have lots of backlinks, Google will deem your content rankable as it believes other websites value the information you've provided. You can generate backlinks by collaborating with other companies and providing backlinks to each other's articles, employing a PR agency to get you featured in the press, including backlinks to your website or cold outreach to see if companies would be interested in linking to your content.
Creating the right content for Google
There are plenty of ways to structure content so that it stands a better chance of ranking on Google. However, the quality of the information you provide should always take centre stage and be the driving force behind writing, recording and any other type of content on your website.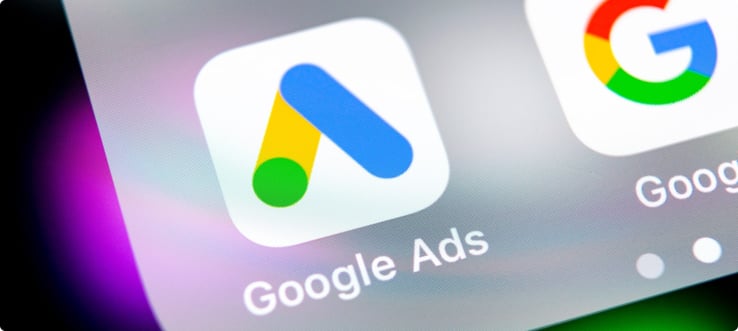 Using Google Ads
Organic traction might be the ambition of many businesses, but pay-per-click (PPC) is also necessary for any online retail brand that wants to boost sales. The race to the first page\r on Google is highly competitive, and PPC can offer a boost that gets you to the very top of the search page for specific keywords.

It's achieved through Google Ads, Google's advertising service that lets businesses move above organic rankings on the search engines results page (SERP). Ads used alone, however, will stretch your budget and perhaps even cost you more than it brings in.

Yet, when done correctly, implementing a Google Ads' strategy with organic content is a great way to increase your businesses' reach. But you'll need to use it wisely and as part of an effective broader marketing strategy.
How does Google Ads work?
Previously Google AdWords, Google Ads essentially works the same way as its predecessor. It operates on a PPC model, with businesses targeting specific keywords on Google and bidding to rank for that specific word.

Users can submit their 'maximum bid', which is the most they're willing to pay for the targeted keyword. You might decide to bid £5 for 'men's running shoes'. If Google determines the bid is worth £4, you'll win the ad. If, however, it thinks the ad is worth more than £5, it'll go to a higher bidder. You also have the option of setting a maximum daily budget, meaning you'll never spend over an amount for an ad on any given day. Doing so can give you a better idea of how to budget for each campaign.

There are three primary bidding options:
Cost-per-click (CPC) – the amount you pay when a user clicks on your ad
Cost-per-mile (CPM) – the amount paid per 1,000 ad impressions
Cost-per-engagement (CPE) – the amount paid when a user performs a specific action on your ad (eg, buys a product).

Regardless of the option you choose, Google takes your bid amount and pairs it with an assessment of your ad. This is called a Quality Score (QA), which, according to Google, estimates the quality of your ads, keywords, and landing pages. Higher quality ads can lead to lower prices and better ad positions.

Scores are between 1 and 10, and the higher the score the better you'll rank and the less you'll spend converting.

The QA combined with your bid amount creates the Next Ad Rank, which is the position your ad appears in the SERP (​​Search Engine Results Page). When a user sees the ad and clicks on it, the business pays a small fee (PPC), with the idea being that the more a user clicks on a marketer's ad, the more likely it is that the ad has achieved the businesses' goals.
Different types of Google ads
Search campaign – these appear as a text ad on the results page for the keyword
Shopping campaign – allows you to promote products more visually in Google shopping bar
Video campaign – these appear in the front of YouTube videos in the form of pre-rolls
App campaign – allow you to promote your apps on Google search to drive installations
Display campaign – uses Google's partners to display your ads on websites across the web

The metrics provide details into day-to-day use across social media and how audiences interact with your brand. They can often be seen in real-time on the page or accessed from the analytics section in your social media account. These insights allow you to think about the type of content you want to create and why you should do it.

How much do ads typically cost?
As a rule of thumb, each type of Google ad has an average cost of between £0.75p and £1.50p. However, prices vary when it comes to ranking on Google with Google Ads. Competition plays a major role, and you can expect to pay more for competitive keywords.

There are a number of factors to consider, such as the quality of your website and how much you're bidding. Google Ads operate through the Ad Auction System, which kicks in when a user searches a keyword on Google.

And a big ad budget won't always win you the bid. Google's Ad Auction and Ad Rank system prefer websites that help users with a high-quality score over lower ones. Essentially, that means your advert needs to be of high quality. The contents of the ad can often be more important than the size of the bid or profile of the company.

Google Ads takes place in Google Keyword Planner, where you can search for keywords, bid on ads and create your templates.
Making the most of Google ads
Google Ads is an important part of ranking in SERP, and it can give your online store more visibility. Just remember that the quality of the ad is important, and your Google Ads strategy should form part of a larger content plan designed to get both paid results and organic ranking on Google.
"...the first page on Google is

highly competitive

, and

PPC

can offer a boost that gets you to the top of the search page for specific keywords."
Implementing Google Shopping
In 2018, there were 7.1 million online retail stores, each one trying to get the attention of customers. That number has only grown in the last four years, and for shoppers, this can be overwhelming even with Google search results. Type 'cookware' into Google, and you'll get 164,000,000 results in one second.

It can be a clunky process if you're moving between ecommerce sites looking for the right product. This is where online shopping marketplaces can be helpful, as they reduce much of the noise. Perhaps unsurprisingly, Google has one of the most prominent of them all (other than maybe Amazon), and it's called Google Shopping.

Although, technically, Google Shopping isn't a direct online marketplace – it's more of an ad platform where shoppers can browse several products based on their search query. As a retailer, Google Shopping can be the difference-maker.

Essentially, if your products aren't on Google Shopping, you're missing out on sales. But why is it so important and how do you make the most of Google Shopping, and just how does it work?
What is Google Shopping?
Google Shopping has been going strong since 2002. It lets consumers search for products across several online retailers and compare them to see which deal is best.

As a retailer, you have to pay to advertise your products on Google Shopping. Your results show up as small thumbnail images displaying the product, retailer and price. Initially, Google Shopping was called Froogle, and the service indexed product data based on search terms.

Then, in 2012 it moved to a paid advertising model where retailers paid to feature in the Google Shopping search results. Over the years, Google Shopping has become more prominent on the search engine, often appearing before anything else on page one.

Essentially, it's another branch of Google Adwords. Unlike typical search engine results, however, Google Shopping displays an image in the advert, which is a carousel of products.
What use Google Shopping for your retail business?
Google is the place to be on the internet, whether using Adwords to appear in search engines, ranking organically or featuring in Google Shopping. The company's reach is unrivalled and, while there is some legitimacy to using other search engines like Bing, Google offers the best reach.

Google Shopping is beneficial to customers who aren't loyal to a brand. For you, it offers the chance to acquire new customers who are searching for products you may sell. On top of that, Google Shopping provides some visual flair – something not typically found in other sections of the search engine (though this is beginning to change).

Advertising on Google Shopping also means you can show up multiple times, as a website result, text-only PPC or in Shopping. Being on Google Shopping means more reach, and it's proven to have a 30% higher conversion rate than traditional text ads.
How to setup a Google Shopping account
1. Open a Google Merchant account
You will need to open a Google Merchant account in the Merchant Center before starting. It's easy to set up and acts as your dashboard for products and product information. Everything is managed in the Google Merchant Center.

2. Get your product imagery ready
Google pulls images from your website using indexed search results. Therefore, it's important to optimise product imagery and listings on your own site before marketing them on Google. The photos are the most important aspect of the listing, so you need high-quality ones. As a rule of thumb, you want to:

Use solid white, grey or light-coloured backgrounds
Use clear and even lighting
Show all aspects of the product being sold
Avoid blur

3. Collect and input your product data feed
The product feed tells Google all about your products and is needed for Google to find and display what you're selling when people search for specific items. You will need to include information such as product names and details.

4. Connect your Google AdWords account
For shoppers to see your products in Google Shopping, you'll first need to connect your AdWords account. Log into the Google Merchant Center and link the account from the main menu.

5. Create a Google Shopping Campaign
The final part involves creating a Google Shopping Campaign. Once that's done, you can advertise products and start generating income through Google Shopping. You will need to pay for a campaign, as it forms part of Google AdWords, and there's no organic ranking on Google Shopping.

How much does Google Shopping cost?
You aren't actually charged for appearing in Google Shopping. Instead, you pay when someone clicks on your advert, similar to PPC campaigns. The cost is also primarily based on the competition – if you're selling sofas, you can expect to pay more than if you sell a niche product.

Other factors include retail verticals, margins and cost of sale. That's because a purchasing decision isn't solely based on the price and where it's listed on Google – other factors need taking into account, such as the experience a shopper has on your website.

For that reason, you need to ensure everything on your website is up to scratch. Does the shopper get a smooth user journey through the website? Can they easily pay at checkout with multiple payment options?

There's no point spending your marketing budget to feature on Google Shopping, only for people to fall off the customer journey because they don't enjoy the experience with your website. Having a good-functioning website with a smooth checkout is key for getting shoppers to complete their transactions.

Get shopping
Google Shopping has become a vital part of any online retailer's marketing arsenal. Using it can expand your reach and get your products in front of customers who may not otherwise visit your store. A good approach to Google Shopping, combined with a fluid website, can get more shoppers visiting your online store and increase revenue.
Creating an SEO strategy with Google in mind
Google should form an important part of your SEO strategy, be it organic ranking or paid marketing. Without having something definitive in place, you will find it hard to make any real impact. As well as focusing on keywords, you should also look at other factors like Google Shopping.

Having a strategy helps you stay on track when creating content – it gives you a clearer indication of how to create and execute your efforts, ensuring it will suit the people you're targeting in the process.
Start with your topics
Many businesses go straight for keyword research, but looking at a few words in isolation is no longer the best approach. Google changes its algorithms regularly, and the topics you wish to address should form the first part of your strategy.

Using tools like SEMRush, Moz and Google Ads, write down some words associated with your industry. If you sell construction tools, for example, some important words might be renovation, redecorations, DIY etcetera.

By performing this action, you can begin to see popular short-tail keywords people might use when looking for products related to your industry. However, these words shouldn't form the basis of content. For now, they're just important words to define what you do.

Next, you want to look at some longer-tail keywords – an expansion of the type of words you've already identified. To illustrate, you might decide to expand 'redecoration' to 'bathroom redecoration or renovation'.

As you continue to do this, you will find that topic clusters begin to form, with short-tail keywords forming the backbone and long-tail keywords offering ideas for content like blogposts. Try and find 10 long-tail keywords for each short-tail keyword you identify.

Taking this approach means you can start to rank for a wider variety of keywords and increase your chances of showing up in search results.
Create a consistent schedule
Once you have the type of content you want to produce in place, it's best to put a schedule together. Doing so will help with accountability while also providing clarity over what comes next in your content pipeline.

Ideally, you'll want to produce between 10 and 12 blogposts a month, as these numbers are widely proven to boost SEO and Google appearances. However, it's hard to commit to such a high volume of content if you don't know the resources.

Therefore, your best bet is to aim for between four and eight high-quality pieces each month that combine to make a topic cluster. For example, if your cluster is 'renovation', blogpost ideas could be 'how to renovate your house on the cheap', 'what tools do you need for a renovation job?', 'how long does a house renovation take?.

Aim to get one cluster completed each month and link all of the blogposts together to create a backlinking strategy.
Build back-links
Link-building is a great way to get more SEO juice, especially when it comes from a reputable source. A backlink is when one website links to your content, and the higher the website's domain, the better the chance of featuring in Google. That's because Google values high-ranking domains. A PR approach can help here, though you can also reach out to other businesses and discuss collaborating, so you give each other backlinks.

It's also important to link to other pages on your website, which is one reason why topic clusters are so important. If you create 10 long-tail blogposts for one short-tail keyword, you can then interlink all of those blogposts. Google favours this as it sees that you're trying to provide the reader with as much information as possible.

Other types of content
Blogposts and other forms of written content play a pivotal role in boosting your SEO, but they're not the only options on the table. Video content is increasing in popularity and becoming an important SEO tool for brands.

YouTube is its own form of search engine and gets 122 million daily active users. Take advantage of it with content designed for your audience, and you can start appealing in video search results as well as page one of Google's conventional search bar. You can even combine videos into blogposts, using the video to summarise the article.
Think about other aspects of your content
It's not just well-written blogposts or well-performing video content that helps you rank. You should also think about what goes on behind the posts. This includes formatting the content management system, so it offers you the best chance of ranking.

Write a meta description for each post, summarising what it's about in a few words. Make sure that URLs aren't too long, write alt text for images, which provides a written description of the picture included in the blogpost.

Compress images too, so they don't impact the speed of your website. This is especially helpful for mobile websites – the bigger the file, the harder it is for the internet to render your website. When you're putting a strategy together, write a checklist for how to optimise content like blogposts and videos.
Paid advertising
Your paid outreach should sit alongside your organic strategy, with the two feeding into each other. Using paid advertising, you should focus on factors like Google Shopping and Google Ad Words, with the aim of appearing in the ad boxes at the top of search results.

Actual products and services should be the main focus of paid advertising – you want to show people what your business does and how it can help. So instead of writing a blogpost, paid ads should be aimed at people ready to make a buying decision with short and snappy summaries. Whereas blogposts and other forms of content marketing are designed to educate rather than convert.
Measure and track your strategy
Use Google Analytics to measure and track your content. SEO takes a lot of time and effort, and you will learn as you go along. With Google Analytics, you can get tangible insights that help you tweak and improve your SEO as you go.

You can monitor website traffic, see which pages perform well, look at bounce rates to see how quickly people leave your website and much more. It will give you a clearer idea of what is and isn't working, allowing you to see your ROI as a result.
Defining your strategy
An SEO strategy is a vital part of any content marketer's arsenal. And planning an efficient one that underlines clear goals can help your retail business in the hyper-competitive ecommerce world.

Summary
Google is a beast, and it can be daunting at first. But with the right approach, you can start seeing results and showing up in people's search queries. With a mixture of organic and paid content, you can build a presence on Google, alerting people to your online retail store and improving website traffic. That should result in more sales and increased revenues, with Google playing a primary role in your business's visibility.