Consumers demand more flexibility in how they pay for products and services. As a result, retail finance such as buy now, pay later, has exploded over the last few years, and it looks set to grow further.

Much of this was brought on by the pandemic, but there was already an appetite for alternative payment methods pre-Covid. Traditional options like debit and credit cards no longer offer convenient options to shoppers, and online retail companies aiming to keep up and appeal to buying audiences need to shift their focus to incorporate other payment forms.

Enter Deko, a multi-product, multi-lender retail finance platform focused on expanding access to retail finance for lenders, merchants and customers. We avoid potential issues with single lenders, who may have varying levels of sector or risk appetite, and offer a multiple-lender option to ensure better matches for customers, merchants and lenders.

Deko can say "yes" to more transactions and provide multiple products that offer consumers more choice at checkout. We believe that makes us the right choice for your business – and we've got all the details you need to know about partnering with Deko and the current retail finance landscape.
Understanding the retail finance space
The retail finance space looks glaringly different than it did at the beginning of 2020, following on from a year like no other. The pandemic changed everything, and while we're all slightly bored of talking about it, there's no doubting its effect on most industries.

Online retail just so happened to be one of the few sectors largely unaffected by Covid. With a greater number of people spending time indoors, the appetite for online shopping increased by 34% in 2020 as buyers pivoted to digital shopping.

However, there was a recession to deal with alongside the shift to online. That meant some merchants were unable to maximise their opportunities, as consumers had the desire but not necessarily the means to buy the products and services they wanted.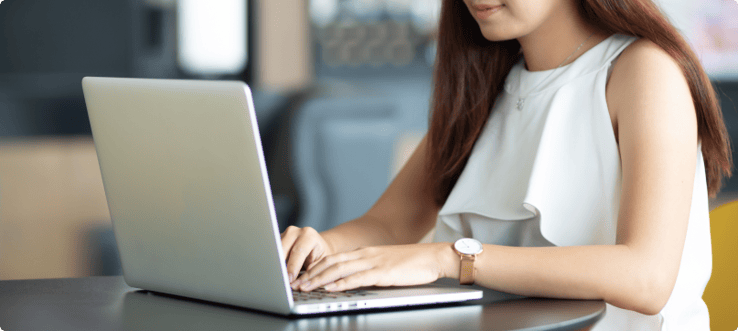 The solution was alternative payment methods, with consumers splitting the cost for everything from furniture items to digital services. Buy now, pay later (BNPL) was the most popular of the choices available – especially with millennial and Generation Z buyers.

Surveys reveal that four in 10 Brits say they have used BNPL when making a payment. Now, the landscape is one where alternative payments are becoming a requirement with consumers, as they want to spread the cost of their purchases responsibly.
The changing mindset of consumers
The recession played its part in the desire for alternative payment options, but they aren't the sole driver. Even before Covid and the financial fallout that came with it, consumers looked for ways to pay beyond credit and debit cards.

Consumer spending habits are changing, and flexible finance is an attractive option. Buy now, pay later already accounts for a significant amount of online transactions, despite being a relatively new way for people to pay for goods and services. It's also estimated to have a market share worth £15bn by 2028.

It's younger demographics who are driving the change: in the US, almost 75% of BNPL users are millennials or Generation Z, and it's a similar story in the UK. With these two generations already prime buyers, it's important for merchants to take stock and embrace new payment types.

Buying trends are also changing in general, with cash payments diminishing as consumers look to digital options. On top of that, there's a growing importance in the omnichannel experience – consumers expect the same seamless service whether they buy from a website, social media or in-store.

In the background of all this, fluid payments have become a necessity and will play a vital role in the ecommerce landscape moving forward. That's why partnering with the right point of sale finance provider is essential to move your business forward and meet the demands of your audience.
"Buy now, pay later accounts for a significant amount of online transactions... It's estimated to have a market share worth

£15bn

."

S

ourc

e:

PR Newswire
What should you consider with a point of sale finance provider
Unlock buying power
A common theme for merchants sees customers getting right to the checkout stage, only to drop off at the last minute because their preferred payment method isn't listed. It's a genuine problem, with global cart abandonment rates around 86%. One way to combat this is by offering variety at the checkout stage. Doing so will help customers feel more confident about buying all types of items, from smaller purchases to big-ticket buys, as they have options when it comes to funding purchases.
More purchasing power
Financial flexibility supports customers at checkout. The best point of sale finance provider can reduce drop-off rates and help drive sales forward with more purchases and bigger basket sizes. The ability to spread payments over several months gives the customer greater freedom to use their money. It can be the difference between them making a buying decision and walking away from a sale altogether.

Enhances the customer experience
Customers are loyal if they have reason to be. Otherwise, they'll happily take their business elsewhere and find a shopping experience that's better suited to their needs. Partnering with a retail finance provider gives you more financial flexibility, which, in turn, leads to increased loyalty and the chance to grow your customer pool. If their shopping needs are fulfilled with your business, and they have the right finance options, you can expect more repeat business and greater customer loyalty. There's a large market for repeat buys out there, and you can facilitate returning customers by offering flexible finance options.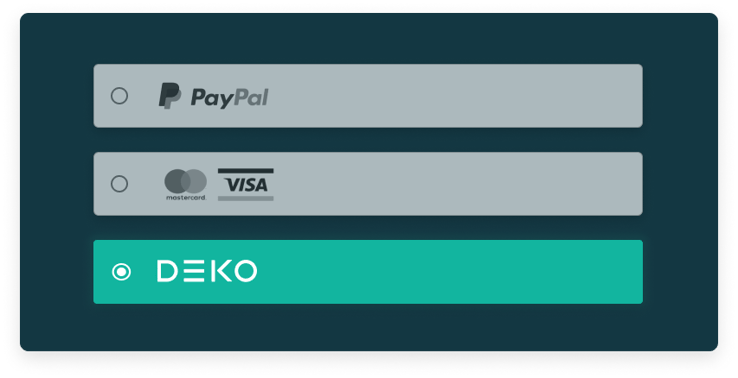 Why Deko is the right finance option for you
So which retail finance provider do you partner with? The first thing to note with Deko is our multi-lender approach, which sets us apart from other finance providers. A multi-lender retail finance platform increases the acceptance rate and basket range with fewer rejected applications thanks to the ability to offer more than one lender.

Here at Deko, we filter lender options to ensure the right provider is found for a customer. The result is increased confidence for merchants, who can expand their customers' level of finance with increased acceptance rates at checkout.

A multi-lender option is a key driver behind merchants seeing higher uptakes of business. Those increased acceptance rates help all merchants, but in particular, they aid businesses with a comprehensive product range and larger basket size options.

Single-lender products mean a customer might not be approved, leaving them with no realistic way to finance their purchase. With a multi-lender approach, however, the customer goes through several lenders without their user experience disrupted in the slightest.

The whole process removes friction from the checkout stage, and we've seen the benefits first hand. Many of our partners have generated a 30% increase in sales after integrating with our multi-lender platform.
Which payment options does Deko offer?
Having multiple lender options dramatically improves the chance of higher acceptance rates, but the finance offering also needs to be right. Alongside our multi-lender option, we have multiple products that give merchants and consumers a variety of choices when it comes to ways to pay. Our product offering covers a variety of basket sizes to cover all values. Partnering with Deko means you can offer customers genuine flexibility and remove friction from their buying journey.

Deko's products include: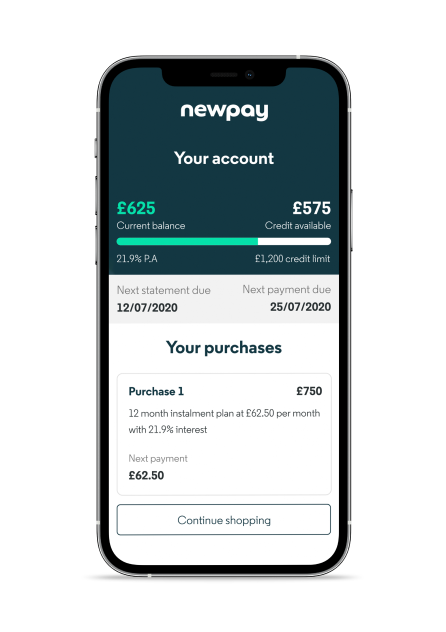 Digital credit
With digital credit, customers will enjoy more choice and flexibility. Its purpose is to help consumers spread the cost of larger purchases up to £2,500 responsibly with an easy and flexible way to pay. A shoppers' credit isn't affected when they apply, and after approval, they can enjoy a range of repayment options at checkout. These include monthly instalment plans, flexible credit and, perhaps most enticingly for customers, interest-free finance. Customers with Deko's digital credit account also don't need to reapply to make further purchases, making repeat business more likely.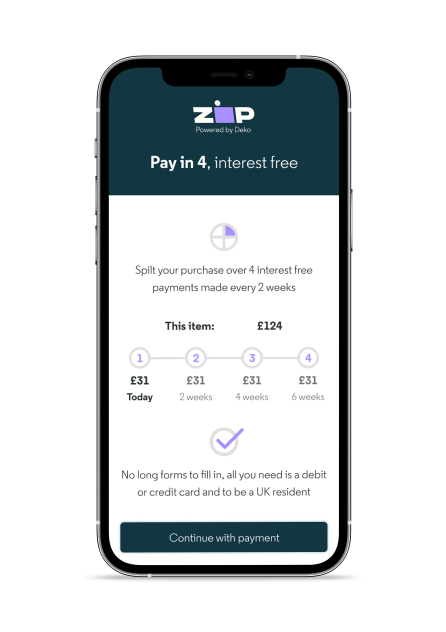 Pay in 4
Our Pay in 4 product offers simplicity and allows customers to spread their payments over four equal interest-free payments. Pay in 4 lets you offer more to customers with zero percent interest and no fees for the customer. Customers can then split the cost for purchases between ​​£25 to £1000, paying every two weeks until all four payments have been made.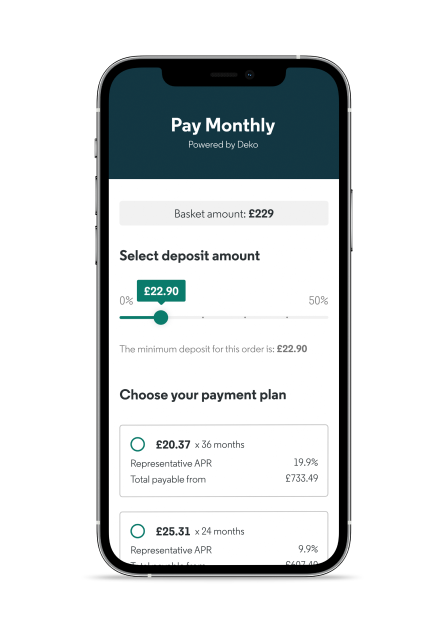 Pay Monthly
The closest thing to a universal Buy Now Pay Later button. Deko's Pay Monthly solution adds instant finance for just about every type of purchase, both online and in-store. And because we connect you to multiple lenders, we say yes to more customers.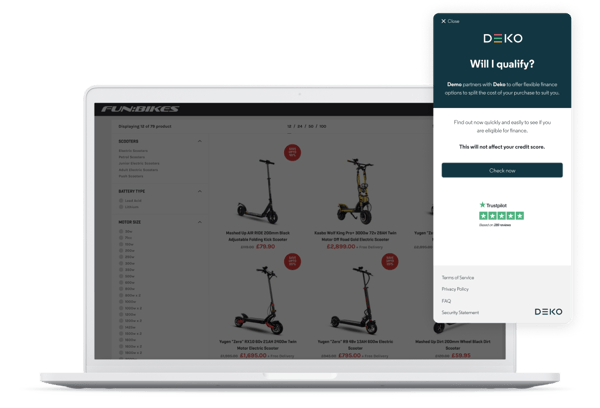 Will I Qualify?
While Will I Qualify is available with our other products and helps customers check their eligibility before making a purchase. That way, they have a better idea as to whether they will qualify beforehand. They can remove the guesswork from lending requirements and quickly determine eligibility with a soft search on all applicants. It won't affect their credit score and weaves effortlessly into the shopping experience. Along with multi-lender, Will I Qualify supports other products and makes it easier for customers to assess their financial options.

Getting set up with Deko: here's what you should know
Deko has worked with thousands of merchants across the UK, processing over £3bn worth of credit applications since our inception. It's easy to get set up with us – you just need to be a registered entity in the United Kingdom and have been trading for at least one year.

Once you get in touch, one of our team will work with you to see which finance option is most suitable for your business. If there's a good fit, we'll take you through the application process and help guide you through the integration process.

Deko effortlessly integrates into your checkout, and customers won't experience any disruption to their experience. We also offer partner support, so there's always someone you can speak with should you need any help along the way.

Working with us means you're partnering with one provider offering multiple finance options. That allows you to optimise your finance offering with a flexible approach, and we can invest time into understanding how your business works. Doing so allows us to build trust with you and provide a seamless retail payment ecosystem that drives your business forward.
Summary
Despite the uptick in online shopping, the past 18 months have been some of the most difficult and uncertain times businesses have faced. But as the recovery begins, the appetite from customers for more flexible options is clear. Retailers who meet those demands head-on will put themselves in an excellent position to prosper in the ecommerce space. Therefore, partnering with the right finance provider is essential for moving your business forward and meeting the demands of modern-day consumers.